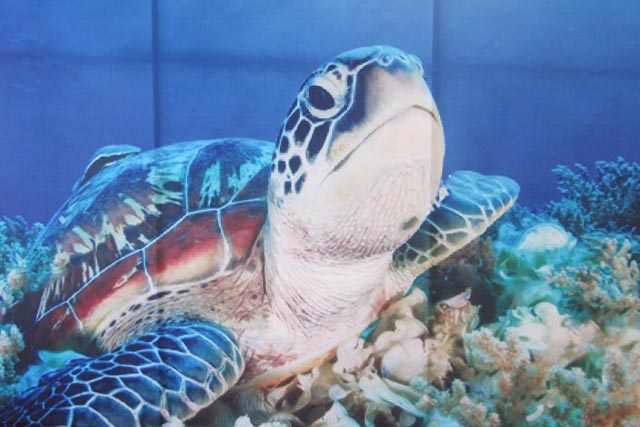 Action plans for marine turtle conservation
ĐÀ NẴNG — Việt Nam had been committed to protecting endangered turtles and issuing action plans to boost biodiversity since it became a signatory to the Indian Ocean-Southeast Asia (IOSEA) Marine Turtle Memorandum of Understanding in 2001, according to Trần Đình Luân, Head of the Directorate of Fisheries.
Luân was speaking to Việt Nam News at the 8th IOSEA Marine Turtle Memorandum of Understanding on the Conservation and Management of Marine Turtles and their Habitats (IOSEA Marine Turtle MOU) in Đà Nẵng yesterday.
He said positive actions and regulations had been issued by the Government to support the protection and conservation of turtles.
He said only seven species of turtle could still be found around the world, and five of those were present in Việt Nam.
"Việt Nam committed to turtle conservation at the IOSEA Marine Turtle MoU in 2001, and issued a protection plan for marine turtle species in 2004 as well as signing a turtle conservation and protection plan in Southeast Asia in 2012," Luân said.
"Việt Nam has also signed the Convention on International Trade in Endangered Species (CITES)," he added.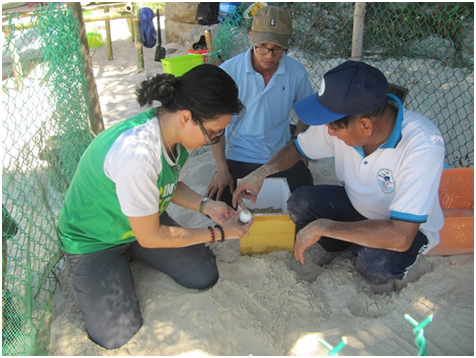 Turtle eggs are placed at artificial nests on the Chàm Islands beach following a turtle conservation programme on the Islands. — VNS Photo Công Thành
Luân said the Prime Minister had approved a turtle conservation programme in Việt Nam.
However, turtle conservation and protection are struggling with challenges such as illegal catching, mass tourism, rapid industrial zone development in coastal areas and limited funds.
Climate change, rising sea levels and pollution, especially plastic waste, also threatened turtles in Việt Nam, Luân added.
Lê Hồng Sơn, head of biodiversity conservation and the science research section at Côn Đảo National Park, said the park, off the coast of Bà Rịa-Vũng Tàu Province, was the best shelter for marine turtles in Việt Nam.
He said at least 500 turtles arrived on the peaceful and protected beaches on the Côn Đảo Islands to lay their eggs each year.
"The turtle conservation programme has involved the participation of the community, fishermen and NGOs including the International Union for Conservation of Nature (IUCN) and the World Wildlife Fund for Nature (WWF)," he said.
Sơn said the park also included rescue centres to protect turtle eggs from natural disasters and predators.
He said the park had been working with the WWF and IUCN to attach GPS trackers to the turtles.
The eighth meeting of the IOSEA Marine Turtle MoU drew the participation of 33 member countries and territories and will continue with discussions and experience sharing on the management and protection of marine turtle species till October 25.
Việt Nam will also put forward Côn Đảo Park to become a member of the IOSEA marine turtle site network at the meeting.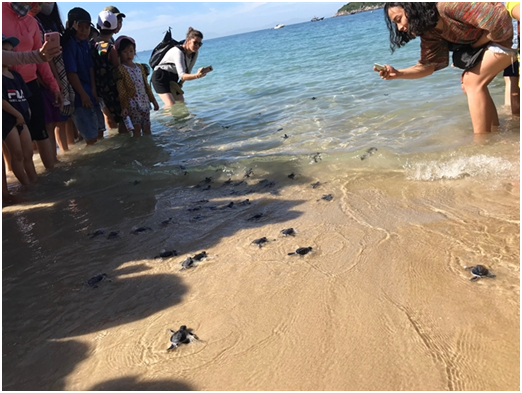 Islanders on the Chàm Islands off the coast of Hội An city and tourists join actions to release turtle babies to the sea. At least 1,200 turtle babies were successfully hatched from artificial nests on the Islands' beach in 2017-19. —VNS Photo Phạm Hải
Chàm Islands' Marine Protected Area (MPA), 20km off the coast of Hội An City, is home to the first successful site with ex-situ sea turtle conservation.
More than 1,600 turtle (Cheloniidae) eggs were moved to the Chàm Islands from Côn Đảo Island National Park at 1,000 kilometres away for artificial hatching between 2017-19, and 1,200 baby turtles were released into the sea.
IUCN's Marine and Coastal resource programme co-ordinator Bùi Thị Thu Hiền said only eight out of 16 Marine Protected Areas (MPAs) in Việt Nam offered sea turtle conservation. — VNS